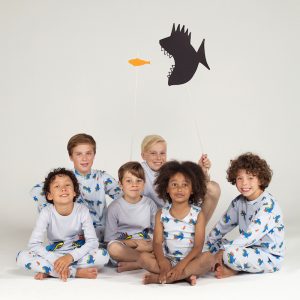 Welcome to the first maus house blog. It is so exciting to finally be in direct touch with our customers and we look forward to meeting you online, hearing your maus house pyjama stories and seeing your maus house photos.
maus house pyjamas the brand, was born out of a desire to find funky and cool pyjamas for my son. I had so many conversations with friends and relatives, who felt the same way as I did and wanted more than what was on offer at the time. Something with great graphics and more colourful than just blue for boys and pink for girls, was on the agenda. Having spent over 25 years in the fashion industry, I set about designing the product we were all looking for to put our kids to bed in.
maus house pyjamas have the best prints and designs and are available in a long john ski style, loose johns style with more room, shorties for summer sleeping and the ubiquitous onesies just for fun. All styles can mix and match between shorties and long johns or loose tops with fitted legs. Just move from bed to couch on those long lazy weekends we all look forward to and deserve.
Also on offer just for the younger guys and gals are some super cute singlets and undies. These make great gifts and the kids love them, especially when toilet training. They feel so grown up to have special underwear and the singlets can even be worn in Summertime with a denim short or skirt for that hot sunny day we seem to swelter in. Take a peek too at our gorgeous double face baby blankets with bound edges. These can be used for swaddling in Winter or as a play mat at any time for babies on the move.
maus house products are 100% cotton and all prints are exclusive designs. We hope you feel confident knowing we put a lot of emphasis on the technical side of developing our products and that you look forward to many years wear from your maus house pyjamas.